The beginning of a long awaited dream come true:
---
January 8, 2001
Today I think is Monday. After we did all of our paperwork at the register's office, we came back to the hotel and we had the notary appointment. I really enjoy watching the people work here. All of the government officials wear really nice uniforms. They are very professional. Nobody is rude or in a hurry, they all do their jobs extremely well. The notary was a lady and she was really dressed up. Our orphanage director was there for the notary meeting. The notary lady kept asking why we wanted a 3rd child when we already had 2 boys. I think it is different for them here to understand having multiple children. I explained to her that we really needed more girls in our family. She laughed and agreed when I told her how many nephew I had. She asked a lot about our jobs and our education. Then the adoption paperwork here at the local level was completed. We then paid our $3000.00 donation fee to the director. Again, we was so happy that we were adopting one of his children.
---
| | |
| --- | --- |
| January 8, 2001 | January 8, 2001 |
| | |
| After all of the interviews, we ate again. No lack of good food here. We had spaghetti and everything else that they had. Here is a picture of our little group of 6. There are 14 more of us, but I think they don't venture too far away from their rooms. We are here to explore. They are still tired. | Here is our friends Linda Lee and Kevin Shuey. Their baby's name is Jenna. Their baby is really sweet and delicate. She likes to walk down the halls while holding daddy's hand, with help of course. |
---
| | |
| --- | --- |
| January 8, 2001 | January 8, 2001 |
| | |
| Here is our other friends Joe and Jen Bryan. Their baby's name is Emma. Joe lovingly refers to her as their industrial strength size baby. Emma the tank, what a character. I think she is already talking in sentences and Jen was teaching her some important facts from her educational book tonight at dinner. Last night, Emma flung her bed across the room and I heard that Joe gave his first successful enema. | Here we are. This is the last time that I let anyone talk me into going somewhere without a curling iron. Need I say more. |
---
| | |
| --- | --- |
| January 8, 2001 | January 8, 2001 |
| | |
| There seems to be no lack of interesting back drops here in China. I think our goal is to see what the most absurd photo of the day will be. This one won for today. We named it the peeing fountain boy. This was taken while we were walking through the people's park. We paid 2 yuan to enter and it was beautiful. | I think Emma likes his daddy. Joe and Jen wanted us to post some pictures so that their parents, family and friends could see their beautiful baby. All of the old ladies are so impressed with her muscles. |
---
Nanning is so beautiful, this park reminded me a lot of Hawaii. There were palm trees and flowers everywhere. I think it is about 80 degrees here today and nice and sunny. There is an amusement park here also but it is closed today. The one thing that I noticed about China is all of the people do the work by hand. In Guangzhou, there wasn't one piece of heavy equipment. If they wanted to repair the sidewalks, they dug it out by hand. Everything is done by hand. There are boats that go up and down the rivers with men in them picking out trash from the water. People are constantly washing the streets, planting flowers, trimming trees (not with a bucket truck but on ladders). People are everywhere working.
---
| | |
| --- | --- |
| January 8, 2001 | January 8, 2001 |
| | |
| Here is a close up of Lillia. Her drooling mechanism is functioning just fine. The spots by her eye are where she scratched it before we got her. She is also having a bad hair day. People are comparing our hair. | One last happy baby shot. It is amazing on how fast you can spoil a baby. Less than 24 hours and she is spoiled rotten. She will not let us put her down for a minute, except by a mirror. Oh dear, we are in trouble. |
---
I still haven't had to change her diaper but once. She goes potty every time I say that word. I bet the orphanage really works hard training over 100 babies to do that trick. I can't wait to try the poos tomorrow. The bathroom attendant downstairs is getting tired of me always coming in to take her potty because she has to hold her while I wash my hands. I love having bathroom attendants. Every night when they turn down the bed, the attendant brings us flowers. The laundry attendant brought all of our clothes back to us in individual plastic bags. The morning attendant brings us the weather schedule for the day. The fringe straightener lady hates it when we mess up her fringe on the big oriental rug. I really like the door attendants also, we never have to open a door. The bowling alley attendant had us re-word his letter because we knew better English than he did. Our baby spit up on the internet attendant. I really miss the White Swan's elevator attendant because here I have to push the button myself.
---
That is all for today, we need to go to bed because Michael is taking us shopping tomorrow. We are going to the grocery store and then to some pearl factories and some jade shops. Good night and thank you Dan for all your hard work, the web page looks great.
---
January 9, 2001
Today is the shop till you drop day. The grocery store is like a great big Sam's club. It has everything. I couldn't resist buying this really huge blanket, I will take a picture of it tomorrow. It comes with its own suitcase to check in on the plane. Marla will know what I am talking about. It is just like the baby blanket she bought in China except this one is huge! It will cover my bed. I will never be cold again. I paid 314 Yuan which is about $30.00. Huge!!!!! It was hard to fit on the bus. We also bought formula, Pepsi, Pringles, and chocolate. We were dying for some unhealthy snacks. Next we went to a book store and we purchased some baby CD's for about $1 each and also some books. After our shopping trip Michael took Kevin, Linda, Joe, Jen, Dennis, and I to a local Cantonese restaurant. It was really good and cheap, after a few trips to the bathroom, I think I will stick to the more expensive hotel food. One lady is so sick we haven't seen her for a couple of days, I sure hope she feels better tomorrow.
---
January 9, 2001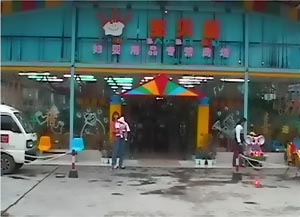 Today is Monday and we didn't do a whole lot that was picture worthy. We met Michael downstairs at 9:30 for a bus ride to a few shopping places. The first store we went to was a baby store. The entrance to it was a big play area, like a big McDonalds play land. In this store we were able to buy strollers and clothes and shoes and stuff. We bought Lillia a bib and some shoes. I think everyone bought something here. The clothes selection wasn't all that great.
---
Dennis and Lillia are napping so I decided to take pictures of our group so I would remember them all when we get home. Everyone is really nice. We especially enjoy our first small group. Linda, Kevin, Joe, & Jen are really great and so fun to be with. Joe reminds us all of Nicholas Cage. Their baby isn't feeling as well tonight so they are staying in for dinner. I will introduce to you our group.
---
| | |
| --- | --- |
| January 9, 2001 | January 9, 2001 |
| | |
| This is the Butterfields. Scott and Lisa named their baby Lilli. They are from Winston-Salem, North Carolina. Their baby was born on March 30, 2000. Their baby's nanny was so sad to give them their baby, she was crying. The nanny was so pretty and so very young. Their baby was from Wuzhou. She is so tiny and cute but I think she is the only one who can almost crawl. | This is Bonnie Davies. She is the only single mother and she was lucky to have her sister DeeDee come with her. DeeDee is from Breckenridge, Colorado. Bonnie named her baby Denise after her sister. Denise was born on February 22, 2000. Bonnie is from Richmond, VA. |
---
| | |
| --- | --- |
| January 9, 2001 | January 9, 2001 |
| | |
| This is Larry and Mindy Fowler from Denver, Colorado. They named their baby Miranda and she was born on March 11, 2000. | This is April Lloyd and Wes Kinsey. They are from Houston, Texas. They named their baby Beryl. She was born on March 14, 2000. Their baby was from Cenxi just like ours. |
---
| | |
| --- | --- |
| January 9, 2001 | January 9, 2001 |
| | |
| This is Brian and Lynn Davis from Denver, Colorado. They named their baby Samantha. She was born on March 27, 2000. | This is Remonda Miller from Mississippi. She brought her Mother-In-Law with her because her husband couldn't leave work at this time. Remonda named her baby Emily Jo and she was born March 5, 2000. They were the only ones to loose their luggage. They have been without luggage for 3 days. Thankfully, there luggage arrived this evening. I bet they were overjoyed that they didn't have to wash anything in the sink tonight. They are also very nice. I didn't realize until today that we have the oldest baby. All of the babies are within two months of age though and all are so happy to have families. |
---
I just can't get over how wonderful everyone is. It is a lot of fun being around people who understand what you have been going through over the last year or more. I will really miss Linda and Jen. I wish we didn't live so far away.
---
| | |
| --- | --- |
| January 9, 2001 | January 9, 2001 |
| | |
| Here is Lillia playing in the hall. We were all waiting for Michael to bring our adoption paperwork to us so we all waited in the hall for him. We let the babies play and the parents brought out all of the toys. I bet they don't have such cool toys in orphanages. | This is Michael in the hallway with the four Cenxi babies, Emily, Beryl, Lillia, and Samantha. |
---
Lillia has really blossomed today. Yesterday she was a little flower bud, today she is a great big chrysanthemum (you don't have to spell check when sending things via the internet). She truly is becoming the extrovert that she was described as. She is referred to as the happy baby. She laughs and giggles at everything. I found out that she can use her legs, she was playing tricks on us. A couple of the other babies didn't use their legs until today either. She really can stand up if she is in the mood. I think she just wanted us to do everything for her. She waves bye bye to everyone and can even say bye bye. I think she can rattle off a few words in Chinese also. She likes to take everyone's toys away from them and she eats like a pig. She has become overly attached to me and Bryce will have some competition when we get home.
We found out a lot more information about Cenxi from a man that came to meet Joe and Jen. Cenxi is a very rural town about 6 hours from here. The road to Cenxi is very difficult to travel on. There is a very beautiful waterfall on the way to Cenxi which would make the drive very worthwhile. Cenxi people are very beautiful people because the climate is so wonderful. The altitude is higher and it is neither too hot or too cold which is said to make the people calmer and more beautiful. Cenxi people are simple but sophisticated. If you visit their house they will invite you in and treat you like family. They do live in houses because there is room to build them. They build the houses themselves. I would imagine that they pretty much live in hut type houses. The government officials live in an apartment complex. Here in Nanning, you must live in an apartment. There is no space to build a house. Cenxi has no high rises, just short buildings. The main industry is agriculture. It is one of 2 areas in all of China that farm kiwi. There is also fruit manufacturing companies here. I have read that there is a cigarette lighter plant here also. Guangxi region is a sub-tropical region that produces many tropical fruits. We have had fresh bananas, litchi, kiwi, watermelon, cantaloupe, some other ones that I do not know their names. All of it is fresh, not like America. It tastes wonderful. Cenxi is also home to nickel and copper mines. 99% of Cenxi people are Jong minority, they are distinguishable by larger foreheads, fuller lips and something to do with their eyes. Guangxi is 70% minority. Tomorrow we will visit a minority museum so I will learn more about them. I guess our baby must be Zhoung.
---
January 9, 2001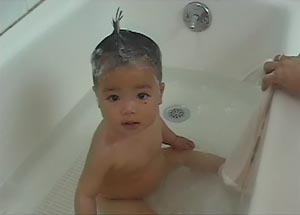 The last picture for the day is of Lillia in the bathtub. Michael said that orphanage babies probably have never been immersed in the water but she loves it. It is fun to watch her experience so many new things that we take for granted. Michael also said that orphanage babies are great. I believe him and I think everyone should have one. They are potty trained, they eat on a perfect schedule and at 8:30 sharp, they go to sleep and sleep all night long. They wake up at 6:00 just like their papers say. They eat chicken congee just like their papers say, they come with great instructions and love every minute of every day. We have a fun day ahead of us-pearl shopping! Good night.
---
January 10, 2001
Today we went to the Ethnic Minority Museum. We learned about the different ethnic minorities in Guangxi Zhuang Autonomous Region. I thought the Guangxi was a Province but it is not. I forgot why, I will ask Michael tomorrow. There are 12 different minorities in Guangxi, Zhoung is one of them. The rest of the minorities are from different Provinces that have relocated into Guangxi. Our baby is Zhoung. The Zhoung people are known for their brocade. I guess they made a lot of it. If you are a minority, you do not have to abide by the one child rule, you may have more. These babies are abandoned mostly because the mother is too poor to care for the baby. The majority (70%) of China is Han. The museum showed a lot of great big brass drums that date back 2700 years. We weren't allowed to take pictures inside the museum.
---
| | |
| --- | --- |
| January 10, 2001 | January 10, 2001 |
| | |
| The picture here is of 2 frogs. These frogs are put on top of drums and the big frog is the women, the little frog is the man. If you have these 2 frogs on your drum it means that you can have more children. | Here is Joe, Jen and Emma outside the museum. They say HI to moms and dads. |
---
| | |
| --- | --- |
| January 10, 2001 | January 10, 2001 |
| | |
| Here we are in the same spot obviously. I found a lady who brought her curling iron, she promised that I can use it tomorrow. It is cooler today, not quite like the Bahamas, more cool with humidity. Where is the sun? | Here is a picture of the outside of the museum. It was really pretty with a lot of neat things to look at. |
---
| | |
| --- | --- |
| January 10, 2001 | January 10, 2001 |
| | |
| We watched some ethnic dancing. This is a lady who was doing a bamboo flute dance. After the dancing there was a real wedding. Dennis tried to take a video after hiking up a rocky path but was told not to. | Emma and Jenna in a quiet moment. |
---
| | |
| --- | --- |
| January 10, 2001 | January 10, 2001 |
| | |
| Play group. Jenna, Lillia and Emma playing on the floor in our hotel room. Our baby is the grabby one of the bunch. | A better shot of Emma and Jenna. They are such happy babies. We really lucked out with our babies. I can hear a baby screaming next door to us. Some of the babies are having a more difficult time. |
---
| | |
| --- | --- |
| January 10, 2001 | January 10, 2001 |
| | |
| Downtown Nanning. This is a view from the windows by the elevators on the 9th floor. We are staying on the none smoking floor (says the sign). It is a little less chaotic here than in Guangzhou. The other 7 couples who did not come early are really frightened by the traffic, wait until they experience Guangzhou. Hehehehehe. This is a piece of cake. | The last picture of the day is of the Gilberts. Pete and Teresa named their baby Anna, she was born on March 22, 2000. They are from Denver, Colorado and their baby is from Wuzhou. Teresa was finally able to pick herself up off of their hotel floor after she had been so sick for 3 days and pose for our camera. This is the last couple of group 243. |
---
January 10, 2001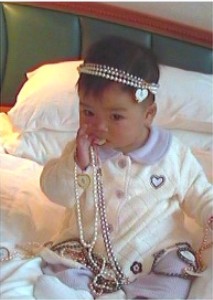 Pearls. The highlight of our trip. To quote Joe, "Buy 10 strands of pearls and get a baby free." Guangxi is known for its pearls. Beihai is the area that grows the pearls. The pearls are natural pearls, not cultured pearls so they are a little less round. Michael took us to this pearl shop, we were the first Americans to go here. This shop is for the locals and the prices are much better here. There aren't really any $2.00 strands of pearls that are of good quality so I spent much more than I planned. I bet the workers were so excited to see us and our money. I think we just about bought the store out. There were about 12 or so employees and they held our babies while we looked around. For everyone who requested pearls, we got them. Lillia is posing with them.
---
Tomorrow we will go and visit a minority village about 40 minutes outside of town. When we head back, Linda, Kevin, Joe, Jen, Dennis, and I are going to hit the mall. We were told about a shopping area that we can buy cheaper clothes, we like to shop! Tomorrow is also our last full day in Nanning, Friday morning we leave for Guilin. We are looking forward to that. Good Night.
---
This page was last updated on 08/24/06.