The beginning of a long awaited dream come true:
---
| | |
| --- | --- |
| January 17, 2001 | January 17, 2001 |
| | |
| Here is one very happy group of people. We just finished with our Consulate appointment and we are going to lunch to celebrate. No more paperwork here and no more money fees. Our babies belong to the United States! | We ate lunch at the Star Garden Restaurant. Raymond joined us. The food here is Indian and Thai cuisine. We ate outside on the patio and had this nice little pagoda to ourselves. |
---
| | |
| --- | --- |
| January 17, 2001 | January 17, 2001 |
| | |
| Joe had chicken pumpkin curry soup. It looked pretty neat, I had rice and chicken in a pineapple. That picture didn't turn out so well. The food was pretty good and very cheap. | Here is the official White Swan Red Couch Photo. It was pretty tricky getting 10 babies to sit nicely. |
---
| | |
| --- | --- |
| January 17, 2001 | January 17, 2001 |
| | |
| Raymond decided to have us pose according to the orphanage. Here are the Cenxi babies. Emily, Beryl, Lillia, and Samantha. | Here are the Beihai babies. Jenna, Emma, Miranda, and Denise. |
---
| | |
| --- | --- |
| January 17, 2001 | January 17, 2001 |
| | |
| Here are the Wuzhou babies. Lilli and Anna. | Big group photo. |
---
| | |
| --- | --- |
| January 17, 2001 | January 17, 2001 |
| | |
| Our family photo on the red couch. | Bob Weniger would like to say hi to his wife Judy. Bob bravely came alone to adopt their daughter Katie. |
---
| | |
| --- | --- |
| January 17, 2001 | January 17, 2001 |
| | |
| Bob and Judy's daughter Katie. | Another picture of Katie. |
---
This evening we went on a dinner cruise along the Pearl River. All of the high rises are lit up. It was very pretty. Inside the dinner was okay, not wonderful but okay. We had another ethnic dance show and then karaoke. The Chinese love karaoke. We were happy to get off the boat.
---
| | |
| --- | --- |
| January 17, 2001 | January 17, 2001 |
| | |
| Lillia and me on the boat enjoying the beautiful lights. | Katie dancing to the karaoke music. She can really get around. I think Bob is ready to fly home. |
---
January 18, 2001
Today is Thursday and it is our last full day here in beautiful China. Raymond planned a tour for everyone today but Joe, Jennafer, Dennis and I chose to stay at our hotel and sleep in. When we first came to China, we went to all of the places that Raymond had scheduled for today except that the babies were going to be blessed by the monks at the Buddhist Temple. Linda and Kevin took Jenna to the Temple to be blessed and then they came back to the hotel. We ate lunch at our favorite noodle shop and then we shopped.
---
| | |
| --- | --- |
| January 18, 2001 | January 18, 2001 |
| | |
| We went to the Hard Rock Cafe again, only this time with the whole group. Raymond came also. Here is a picture of Emma in a highchair. | Here is a picture of Jenna. She is such a happy baby. |
---
January 18, 2001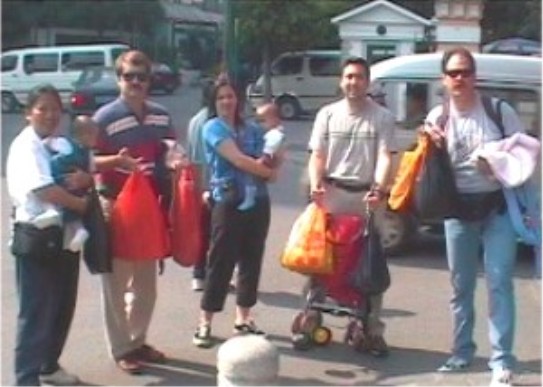 Here is a picture of all of our packages. We had to make a few trips back to the hotel to drop off packages before we went out again.
---
January 19, 2001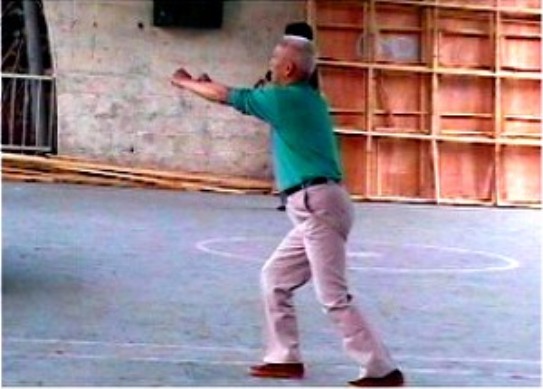 Linda, Jen and I woke up early today so that we could take pictures of people doing Tai Chi in the park. I have a regular camera, a video camera and my video camera takes digital pictures so it is hard to remember to take pictures with all of the cameras. Hence, only the one digital picture. This man was doing Tai Chi so slowly and gracefully. The park was full of people doing these exercises, it was relaxing just to watch.
---
January 20, 2001
The rest of the day was very busy. We had to have all of our luggage at our door by 2:30, that was some tricky packing but we fit it all in. After our luggage left, we ran to the shops to see what we could buy that was small.

Our plane was scheduled to leave at 7:30 but we sat in the plane for 2 hours. The plane ride home was terrible. Lillia was sick the whole time. She completely christened our seats with vomit and diarrhea. She threw up 4 times and had diarrhea 2 times all over everything. Luckily, Linda had an extra outfit. I would hate to have been the clean up crew. Yuck.

We landed in LA 30 minutes after our connecting plane left for Denver. China Southern had to put us up in a hotel. Not a 5 star one either. Kevin, Linda, Dennis and I waited about 5 minutes outside of the elevator before we realized that we had to push our own button. We will always have very fond memories of our experiences.

When we arrived at our hotel, we soon had visitors. Dennis' cousins Jack and Leslie met us at our room. I guess they had quite a time locating us. They gave us very sad news. Dennis' dad had had a heart attack on Tuesday and was in the hospital. He will have a triple bypass on Monday. Jack and Leslie took us out for Mexican food. It was so good. We ordered coke with ice.
---
| | |
| --- | --- |
| January 20, 2001 | January 20, 2001 |
| | |
| We are getting ready to leave for the airport. We don't look too happy do we? We had a terrible night. Lillia had diarrhea on both beds, so we had nowhere to sleep. At 2:30am we just got up and got ready. | Lillia and Jenna waiting for their plane at the airport. This was their 6th trip to an airport. I think Lillia is sick of planes. |
---
January 20, 2001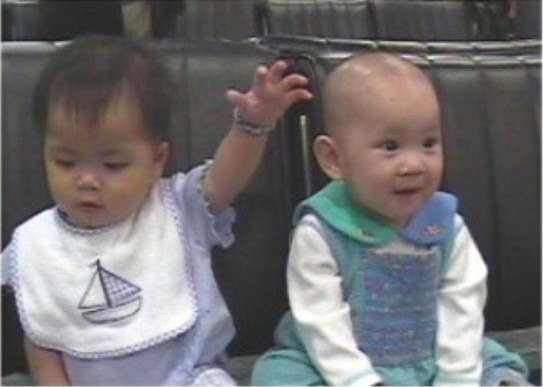 Lillia and Jenna excited to come home.
---
We made it home and everyone had to come to the airport for a second time to meet us. It was great to be home. We had quite the welcoming. Lillia really misses China and has become very quiet again. She is very fearful and at times I wish we were back in China again. She was so happy there. I sure she will learn to love America very soon.
---
January 20, 2001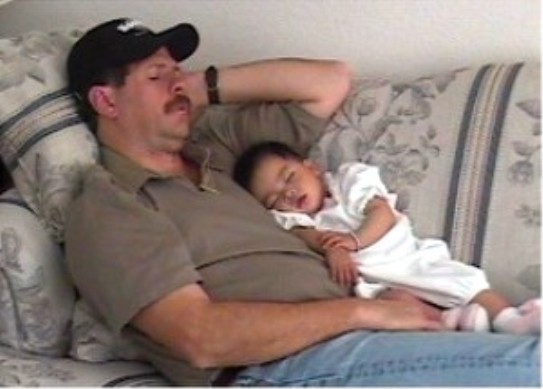 Dennis and Lillia experiencing jet lag. The mother never has time for that. I thought they looked pretty cute though.
---
I have been reminded several times that I forgot to take pictures of my blanket. I will do that tomorrow along with all of the things that we have bought. If you have kept up with my web page, thank you for your interest. I sure had fun doing it and I will never regret bringing my brother's computer with me. We never had a problem with it and nobody every questioned it. Good Night
---
This page was last updated on 08/24/06.