The beginning of a long awaited dream come true:
---
| | |
| --- | --- |
| January 11, 2001 | January 11, 2001 |
| | |
| Today was a very busy day, it was probably the most interesting of all. We started out with a group picture. Michael took pictures with about 25 different cameras. I think our group is now all healthy. | Anyway, in this village the people wash their clothes in the lake. The people were very friendly and they didn't mind that we were taking their picture. Michael says that they feel like celebrities to have their picture taken. It will make their village popular in America. |
---
Michael took us on a tour to Yeling village. The village was about 30 minutes outside of Nanning. This is how the country people live. It is very different from the city. This village consists of Zhoung people, like most of our babies. I was wrong about what I posted yesterday, the Zhoung are minority but can only have 1 baby. The Han are majority people and can also only have 1 baby, the other minority groups can have 2 babies. Michael seemed a little sad that he and his wife were only allowed 1 child, he wishes his son could have a brother or sister. He said maybe in a few years he and his wife could adopt a baby like we all are doing.
---
| | |
| --- | --- |
| January 11, 2001 | January 11, 2001 |
| | |
| I found this nice lady and her son and was taking their picture while they smiled at me. They were jabbering something in Chinese so I asked Michael what they were saying. They said, "Please don't take our picture." Opps. | This man loved having his picture taken. He posed with his water buffalo, his wagon and then he got his wife. We all gave him a little money. |
---
| | |
| --- | --- |
| January 11, 2001 | January 11, 2001 |
| | |
| Here I am with the nice man's water buffalo. I think he was posing for someone else at the time. | Next, Michael took us to a house in the village. |
---
The lady we visited loves to have tourists come and see her house. I think she had a very nice house in the village and was perhaps proud to show it off. It was 3 stories high, all open air. The main floor consisted of a little garden, a tiny kitchen looking area, a storage area, and a little tiny room, and this bedroom. All of the floors and stairs are made of cement like stuff. The second floor had two bedrooms. One of the bedrooms was their little girls. She had pink netting over her bed. The upper floor was a big patio like area. We could see for miles on top.
---
| | |
| --- | --- |
| January 11, 2001 | January 11, 2001 |
| | |
| Here is the lady and her daughter who let us take pictures of her house, we are on the top floor. We all gave them some money as well. Michael thinks that they will keep the American money to show off to their friends. | This is where I caused a riot. This is the little store just outside of the home area we were just visiting. News got out that we were all there and the children and other people started coming to see us. |
---
Some of our group started handing out $1.00 bills and then I broke open my roll of gold dollar coins. I was mobbed! I guess they really liked those. Michael had to tell them to stop. It was pretty funny and a lot of fun. I wished I had brought my izone camera here but I left it at the hotel. After that, Michael decided to take us home. He had a lot of work to do this afternoon. He went to get all of our girl's passports. We had a free afternoon.
---
| | |
| --- | --- |
| January 11, 2001 | January 11, 2001 |
| | |
| Here is a lovely pig in a box to give your sweetie. I think he cost about 245 yuan. A nice gift, almost as much as a strand of pearls. | We decided to venture out again and see what trouble we could cause. Jen decided to buy a pair of slippers at the flea market. I don't think many of the rest of our group went here but we have become very venturous. |
---
We crossed a record number of streets today and even video taped ourselves doing so. You just can't understand unless you are here. Opps, I touched a wrong button, now I am in italics. I did take my izone with me and caused another riot. I started taking pictures for people and they all went and brought me their relatives. We made a quick retreat. On to the 9 story mall. So many things to buy, so little time. Linda, Jen and I were forcefully drug out of the mall by our loving husbands. I did see a lady have her baby pee on the floor. I kinda like those split pants, it is hard to prepare Lillia for the toilet in all of those clothes.
---
| | |
| --- | --- |
| January 11, 2001 | January 11, 2001 |
| | |
| One more riot, it dispersed before I could get it all on film. I started video taping a blind man playing an instrument. You can see the screen on the video camera while I am taping. I guess everyone thought it was too cool. Dennis told me to turn around and I was swarmed with people trying to look. I tried to take their picture but they all ran away. | Michael arranged a group dinner for us this evening in the Cantonese restaurant. We had pretty normal Chinese food. Rice, chicken, duck, beef, broccoli, fish, and coke-no ice. |
---
| | |
| --- | --- |
| January 11, 2001 | January 11, 2001 |
| | |
| More group dinner shots. Yes, Teresa has quit puking and is happy to join the group again. | One more group shot. |
---
January 11, 2001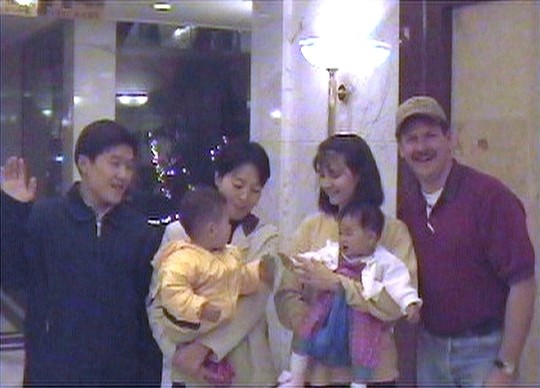 These are the nicest people we have every met. The man's name of Roger, their son's name is Bowen and I forgot his wife's name.

Joe and Jen brought them some gifts from another family back in the States, Roger came to the hotel to pick it up and exchange more gifts. He brought Joe and Jen some fresh local fruit which they shared with us....yummy. Roger brought his wife and son back to see us and he brought us fresh kiwi. Now I know why we needed to bring gifts. I wish I had brought something to give them. Roger is the one who told us all about Beihai and Cenxi. He helps out with adoption groups. He and his wife would like to adopt a little girl in a few years to add to their family.
---
That is all for today. We must go pack, we are leaving early tomorrow for Guilin. All of our paperwork is done in Nanning, now we can play for a few days. Good Night
---
January 12, 2001
Today we all had to get up early to make our flight to Guilin. It was a 30 minute flight, not bad at all. Guilin is just beautiful, I hope we can see it some day. We are here and the place is covered with clouds, can't see a thing. Maybe tomorrow will be better. It is supposed to warm up to 14C. It has rained all day.
---
| | |
| --- | --- |
| January 12, 2001 | January 12, 2001 |
| | |
| Michael and our guide, Shirley, took us to 7 stars park to see the panda bear. I just about froze. If the babies aren't sick after this it will be a miracle. The park was pretty, the flowers were amazing. I bet beneath the clouds it was really nice. | Dennis, Rhonda and sleeping Lillia posing. |
---
January 12, 2001
January 12, 2001
We went to the zoo at 4:00pm to see the panda outside walking around but they wouldn't let her out in the cold rain. Doesn't she look sad? Michael said that her boyfriend died awhile back and she was sad and depressed for 2 years. She didn't look much happier today. I am at least glad to sa

y,

I sa

w

a panda in China.
This is Camel Rock. President Clinton loves to come to Guilin, it is his favorite spot in China. He made a speech here at Camel Rock.
---
| | |
| --- | --- |
| January 12, 2001 | January 12, 2001 |
| | |
| Monkeys are everywhere here. Dennis asked Shirley what kind of a monkey this is. She said it is a long hand monkey. I like how they come up with names in China, in America, we would call it something scientific. | Lillia posing on the couch at our hotel in Guilin. It is much more expensive here. No more spaghetti boulignessehwskejr for us. We will have to eat our oatmeal packets and fruit cups. More space for gifts. |
---
| | |
| --- | --- |
| January 12, 2001 | January 12, 2001 |
| | |
| Shirley, Rhonda, Lillia, Linda, Kevin, and Jenna waiting to go to the ethnic dancing show. I thought driving around town was bad during the day, you should see it at night. Bonnie, DeeDee and Denise came also, everyone else stayed behind. We weren't about to miss anything yet. | Ethnic dance show. It reminded me of a Hawaiian Luau but only Chinese. It was really nice. The music was beautiful. |
---
| | |
| --- | --- |
| January 12, 2001 | January 12, 2001 |
| | |
| More of the show. | We got to see the acrobats, they are amazing. |
---
| | |
| --- | --- |
| January 12, 2001 | January 12, 2001 |
| | |
| Here I am always in the middle of everything. Actually, they forced me up on the stage to do board dancing. I got a free love ball out of the deal. | More board dancing, we only fell over twice and it was the girl in the backs fault. |
---
| | |
| --- | --- |
| January 12, 2001 | January 12, 2001 |
| | |
| Pretty lady. | Five year old boy acrobat. He was wonderful. I can't imagine being his mother and watching what he does. I can't imagine making Bryce do all of that. |
---
| | |
| --- | --- |
| January 12, 2001 | January 12, 2001 |
| | |
| Boy balancing 2 benches on a ball. | Boy balancing 2 benches on a ball while twirling hula hoops. |
---
January 12, 2001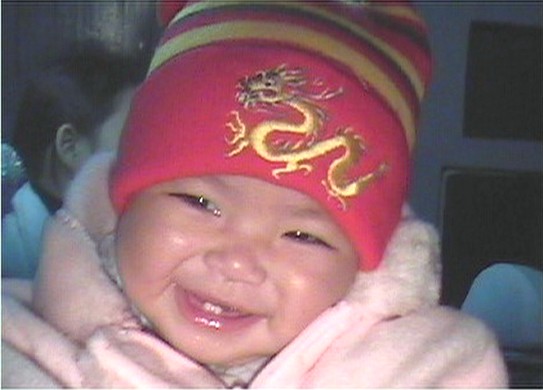 Lillia in the bus on the way back to the hotel.
---
I only caused one seen today, probably because it was too cold to venture out to far. To make Lillia goes poos (as Michael calls it) you hold her above the toilet and say mmmmmmmooooo mmmmmmmoooooo like a cow and she usually goes. She didn't want to do it today and I forgot to persist. She choose to do it in the dance theatre. I had to take her into the restroom, lay the tablecloth which I borrowed from Linda, on the floor, and change her diaper. There is always a bathroom attendant and she was trying to help me by bringing handfuls of toilet paper, Lillia had it up to her neck. Pretty soon, I was surrounded by Chinese people. I don't think they had ever seen a diaper, let alone a white person trying to change a squirming baby on the floor. Lillia kicked her shoes and socks across the floor and into a stall, she had poos all over her t-shirt, it was terrible. I made it out and they followed me and proceeded to tell me that she wasn't dressed warmly enough. Dennis had her coat in the theatre. I couldn't explain that she did have one just not with me. Finally our guide rescued me and brought Dennis and the coat. All was fine and we left for home.
---
Tomorrow we will be going on the Li River boat cruise. I hope the clouds go away. Good Night and God Bless
---
January 13, 2001
Today we went on a boat ride down the Li River. What a beautiful day it was. We woke up to bright sunshine and much warmer weather. The boat was 3 stories high. The upper level is a deck area for taking pictures. We had a wonderful lunch on the boat today. I think it was my favorite Chinese food on this whole trip. Nothing to strange to eat. Cyndi, the Chinese have a new way to prepare tao root, much better than poi.
---
| | |
| --- | --- |
| January 13, 2001 | January 13, 2001 |
| | |
| This is Scott and Lisa Butterfield with their baby Lilli. I have heard that several families are logging in to my site everyday. The Butterfield's family is one of them. Now I have to be careful what I say. I have people all over the world reading about our trip. Eeekkkssss. This picture is for the Butterfield's family. | This is Kevin and Linda with Jenna. You probably know them by name now. Baby Jenna is so cute and she can smile! She has 4 teeth and likes to walk with daddy. |
---
| | |
| --- | --- |
| January 13, 2001 | January 13, 2001 |
| | |
| This is Joe and Jennafer with Emma again. Their family also likes to log on to the site. Hi family! Hope you enjoy pictures of Emma, she is a cutie. They are doing well but we had to medicate them well tonight to get them to sleep. They caught Emma's cold. Joe was trying to figure out how many droppers Jen needed of the baby night medicine. Lots. | Emma wanted to say hi to all of her Grandparents. |
---
| | |
| --- | --- |
| January 13, 2001 | January 13, 2001 |
| | |
| This is Lilli Butterfield. She also wanted to say hi. | Here are the Guilin mountains. Shirley the guide said there are 999,999 mountains in Guilin. If you don't believe her, you can come and count them yourself. They are beautiful. The boat ride might be a little like a tour down the Arkansas river in Colorado, but the mountains look different. They are pretty in their own unique way. The water is very clear and the village people wash their clothes on the banks. |
---
| | |
| --- | --- |
| January 13, 2001 | January 13, 2001 |
| | |
| Lillia and Jenna and their matching hats. | Here are Pete, Scott, baby Anna, and Teresa enjoying Asmanthus wine. It is a local wine. I didn't taste it. Guilin is also known for their Asmanthus fish, you can only enjoy Asmanthus fish in Guilin. I don't think I had that either. |
---
| | |
| --- | --- |
| January 13, 2001 | January 13, 2001 |
| | |
| Here are Michael and Shirley. Shirley is very nice. She was born and raised in Guilin. She went to University to study tourism. She can speak Mandarin, Japanese, English, Indonesian. She would love to come to America to study but cannot afford it. It would cost her $2500.00 to come for a two week stay. That doesn't sound like a lot but the average Chinese's monthly income is $200.00. She is Han Chinese. | Here we are with some friends we met from Australia. The lady's name is Denise Grace. Her mother calls her Disgrace. :-) I forgot his name. They were very nice to talk to. They came to China on a tour. They were in Beijing a couple of days ago and I guess they almost froze. Beijing had a very bad blizzard. They are expecting people to die because they cannot get the snow plowed away and they won't be able to get food. Very sad. |
---
| | |
| --- | --- |
| January 13, 2001 | January 13, 2001 |
| | |
| Here is the highlight of the trip. Snake wine. Yes, Dennis and I tried it. We made everyone else at our table try it also. Snake is good for whatever ails you. It is very good for painful joints. It tastes like very strong alcohol. I don't think it was a very good quality snake wine. The good stuff soaks for over 1 year to absorb the snake flavor. This was fairly new wine. I felt pretty good for the rest of the day. Jen should have drank more wine. | After all of that wine, we needed to visit the toilet. Here is what pit toilets look like. Next time I see Chinese people taking pictures of our toilets, I will understand. I wonder if they would take pictures of us doing laundry and washing dishes. |
---
| | |
| --- | --- |
| January 13, 2001 | January 13, 2001 |
| | |
| This is a man on a bamboo boat with fish catching birds. I can't remember what the birds are called. Tomorrow night we will get to see them in action. Joe was very excited when he found out that we would get to see them. These birds are very special to their owners. They are what provide income for his family. It takes about 3 years to train these birds and they can catch fish until they are 9. After the birds retire, the men will still care for them until they die. They will even bury them in a special grave. | Here is a little boy eating something. This is what the average child looks like. When we saw the pictures of our babies in the orphanage, we amazed at how they were dressed. All of the children in China are dressed this way. The children with families aren't dressed any better. Perhaps our babies were even dressed nicer and ate more food. There are a lot of beggar children. When we were on the boat they were in the river waiting for us to throw coins in the water, then they would wade out and try to find them. It must have been very cold, my mother would have thrown a fit if I did that. |
---
January 13, 2001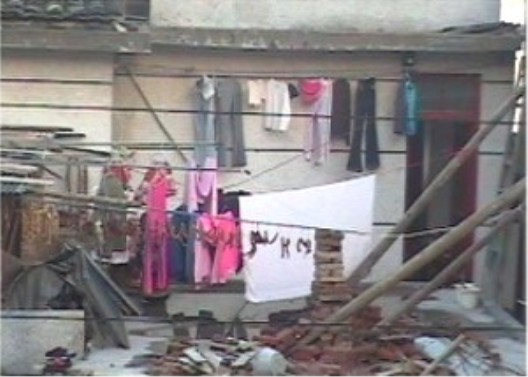 Joe and Jen have a very lovely view from their hotel room. We were in such awe that we stopped in and took a picture for you. They wanted you to notice the intestines hanging next to the clothes. Dinner and laundry, multitasking. Guilin is a different city than Nanning or Guangzhou. The people are a little more poor and the buildings are not as nice. This is the nicest and prettiest tourist spot in China. It really is very beautiful and we are lucky to visit here. I wish I could buy someone a new bike.
---
I saw a pig in a basket today, the chickens and bunnies aren't that big of a deal anymore, the pig was cool. The food here is very fresh, maybe I can take a picture of a pig in a basket tomorrow. Sorry to everyone about my spelling, I don't have spell check and I am usually very tired when I do this. I am really under pressure now that so many people are reading. Dan, does this thing have a people counter?
Good night. Ni hao
P.S. Michael gave me a Chinese name. I am now Cen Hui (Talksalot), Dennis is Cen Fu Ching (Patientman).
---
This page was last updated on 08/24/06.